Description

STONE PARK PAWN SHOP

2020 Australia $15 1/10-oz Gold Kookaburra BU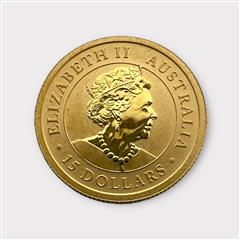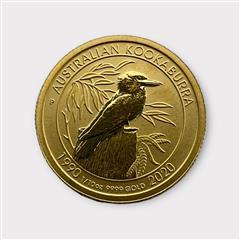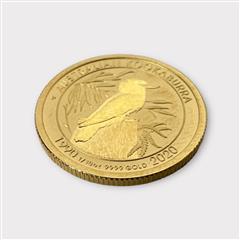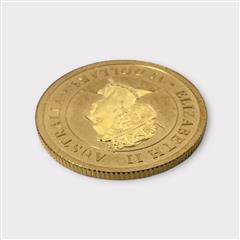 Description:

GOLD-MISC.: 2DWT 24K-Y/G
Item Material Details:

Metal
Gold
24K – .999
Weight: 3.11 grams
Color: Yellow
Notes:

The 2020 Australia $15 1/10-oz Gold Kookaburra BU coin is a highly significant addition to any collector's portfolio, as it marks the first year that this particular coin has been minted. Struck in 99.99% pure gold, this limited edition coin weighs 1/10-oz and has a face value of $15 AUD.

The reverse design features a captivating portrayal of a kookaburra, Australia's iconic bird species, perched on a tree branch. The intricate details and high level of craftsmanship make this design truly remarkable. The reverse also bears inscriptions that include the words "AUSTRALIAN KOOKABURRA," "2020," and the coin's weight and purity. The Perth Mint's "P" mintmark can also be seen on the reverse.

The obverse of the coin features Jody Clark's effigy of Her Majesty Queen Elizabeth II, surrounded by the inscriptions "ELIZABETH II," "AUSTRALIA," and the coin's denomination.

Presented in brilliant uncirculated (BU) condition, this coin has never been circulated and has a lustrous, shiny finish. The limited mintage of this coin makes it an even more desirable addition to any collection.

Overall, the 2020 Australia $15 1/10-oz Gold Kookaburra BU coin is an exceptional collector's item, particularly given that this was the first year of mintage for this particular coin. This is a must-have for any serious collector or investor looking to add a piece of Australian gold to their portfolio.
Shipping

Your item will be shipped within 1 business day(s).
After shipping your items will be delivered within 1-10 business days.
About Us

Stone Park Gold & Silver Exchange is a pawnbroker in Stone Park, IL. You never know when you might need some extra cash—bills start rolling in, payments are due and things happen! When they do, you need cash fast. We have two locations willing to pay you top dollar for your goods. Whether you want to pawn(loan), sell, buy, or trade, we have all your needs covered.
Things I Buy:

Gold and silver, Coins, jewelry, and diamonds, Music equipment, PCs and laptops, Smartphones and tablets, Game consoles & games, Collectibles, Tools, Photography equipment
Listed with ExportYourStore.com